Online Payday Loans Available
The whole world's population has been affected by the ongoing COVID-19 pandemic. The Coronavirus has been a cause of much stress amongst people. Many services have been interrupted and many businesses have been forced to either shut down or reconfigure their distribution system.
Our online payday lending services shall remain uninterrupted by the pandemic. Additionally, we are, on a case-to-case basis, able to help some borrowers by delaying payment due dates, offering lower interest rates and/or greater repayment flexibility. If you are looking for such assistance, kindly contact us and our customer service experts shall advise what options we could make available to you.
Affected by the COVID-19 Pandemic? Get Flexibility in Repayment Options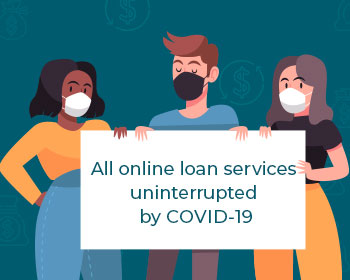 As mentioned above, our customer service team may be able to offer some benefits to some borrowers affected by the COVID-19 pandemic. One of the most frequent requests we receive, is for changing the stipulated repayment pattern. At CapitalPaydayLoan, we are able to accommodate certain requests for payment flexibility and extend the tenures of certain loan applications, upon receiving a timely request. We however request you to kindly get in touch at your earliest convenience when you know that you may require such assistance.
Can't Pay Your Loan on Time? CapitalPaydayLoan can help
If you are unable to pay your loan on time due to your income having been impacted on account of COVID-19, we would like to have the opportunity to assist you. In certain conditions, we may be able to offer you extensions or conversion to installments without penalties. Again, we shall request you to kindly share such issues with our customer service experts, at your earliest convenience.
Avoid visiting Store-Based Lenders
A proven way to curb the spread of the SARS-CoV2 (Coronavirus) is to avoid human contact to the extent possible. When a task can be performed remotely/online, it is highly recommended to avoid visiting a physical store instead. We hence suggest borrowers to use our online services or contact us via phone or email instead of visiting a store-based direct lender for a loan.
No Interruption in Customer Services
At CapitalPaydayLoan, we have ensured that our customer services remain uninterrupted during the pandemic. Both - our email and our phone support are available just as they were before and our online application system too, remains unaffected.
Hardship Loans by CapitalPaydayLoan
If you face a financial emergency due to a hardship such as the COVID-19 pandemic, we can recommend you to find out more about our Hardship Loans. At CapitalPaydayLoan, we are dedicated in helping towards the well-being of our customers in the long run and our loans are available against any stable source of income; not just a salary. So, feel free to fill in an application if you are in need of funds and during these tough days, our customer service experts shall work closely with you to see how best we could be of service to you.
CapitalPaydayLoan is Ensuring the Safety of its Employees during the Pandemic
We would like to assure our customers that we at CapitalPaydayLoan have put in practice, every governmental advisory and guideline related to the pandemic and measures related to reducing the spread of the pandemic. Our employees and team have been facilitated to work remotely to the best extent possible without affecting our service standards. When working within our premises, all safety and sanitation protocols as advised are being implemented to ensure the safety of our employees and team. So, when choosing CapitalPaydayLoan as your lender, you can rest assured that you're working with a responsible lender that's mindful of the pandemic.
This service and website is an invitation to send us a Payday loan application, not an offer to make a loan. We are registered with Utah's Department of Financial Institution. If we approve your loan application, the funds will be disbursed from our account in Utah. Utah law governing consumer loan agreements may differ from the laws of the state where you reside. This service may or may not be available in your particular state.