CapitalPaydayLoan provides a quick and convenient solution for securing a loan of up to $1,000 through a completely online process.
If accessing the internet is not convenient to you, you can reach out to us on our toll-free contact number: 866-735-3420 or send in a fax at 866-735-6859.
The Loan Application, Approval & Deposit Process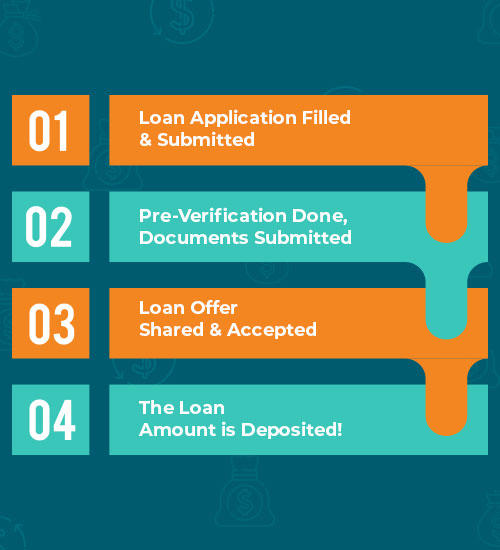 The loan process is lean and simple.
First, you fill in and submit the loan application.
Then, a brief verification is done to see if the information is complete. You're then requested to share the documents which we require to verify the authenticity of the information and your loan eligibility.
The final step from your end is to go through the loan agreement and the terms can be accepted digitally.
The loan amount is deposited to your account shortly after.
Payments are deducted via ACH transactions as per the agreed schedule.
How to Get a Payday Loan Today
If you need a payday loan today, CapitalPaydayLoan is likely to be your best option - a high approval rate of loans combined with a strong reputation in the market makes us a reliable solution for your cash needs.
We have a lot of processes in place to ensure swift transactions. However, in the interest of the safety of the loan transaction, we carry out certain verifications and checks. Some of these are dependent on partners. At times, some verification(s) may need to be carried out, which can only be processed during certain working hours of business days.
To get a loan approved and processed quickly, we recommend applying for the loan with no delay and preferably during early business hours of any working day. We also recommending these information/documents ready while you're applying for the loan:
Your SSN
Active contact details
Bank account details
Driver's License
Bank statement (3 months)
Pay stub/Salary slip/Other valid proof of income (3 months)
Further, we suggest that you stay reachable on the provided contact details until your loan amount is credited, should there be a need for us to contact you regarding any further information.
How to Secure an Online Loan Easily
Finding an online loan today, is rather simple. Yet, ensuring that you get one easily from a reliable source, is what can sometimes get challenging. If you happen to have poor credit history or limited time for your loan to be credited, this challenge gets even bigger.
Choosing a trusted direct lender that accepts bad credit scores and is reputed well for providing quick online loans, can save you much hassle. With CapitalPaydayLoan, you can find the loan you need conveniently. An easy online application process makes the loan available to you from anywhere and at any time.
External Resources
What is a Payday Loan - Investopedia
Choosing a Credit Counselo - Federal Trade Commission