Easy Loan Application and Basic Qualification Requirements
Many choose payday loans because they suffer from bad credit scores, have been rejected a traditional loan, or are in an emergency need of funds. Some borrowers however, prefer payday loans for the ease of the process. Certain trusted and experienced direct lenders offer easy online payday loans. An easy application system along with a streamlined online process of loan approval and disbursal makes our payday loan one of the simplest ways to borrow money online.
To add to the ease, we have ensured that qualifying for our loan is also simple. We approve loans if you meet these basic qualification criteria: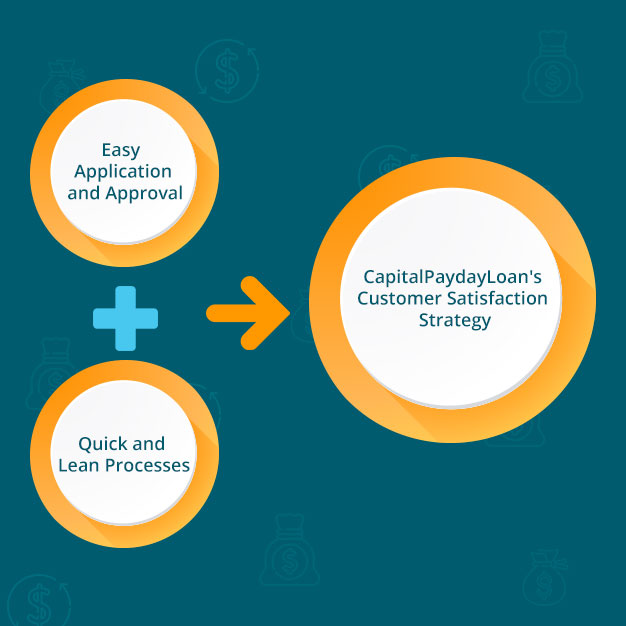 Have valid and active contact details
Are 18 years old or more
Are a citizen or a permanent resident of the US with an SSN
Have a consistent source of income of $1000 per month or more
Have an active bank account
Quick Payday Loans from Your Direct Lender
CapitalPaydayLoan isn't just making things simple for you. We are also dedicated in providing quick service as speed is of value to most borrowers. As an experienced direct lender, we understand and remain mindful of this factor and we provide you quick payday loan approvals. Minutes after you apply, our customer service experts shall be in touch with you and guide you through the process that we have designed to be safe, reliable and customer-friendly while being fast and efficient.
No Bank Verification, No Credit Check
When you're looking for a no verification payday loan, a good place to start is CapitalPaydayLoan. Here, we carry out no bank verifications unless absolutely required. If the documents and details you provide are complete and easily authenticated, we shall typically need no further proof of your loan eligibility and a bank verification is in such cases, avoided. However if there is a difficulty in approving a loan given the information provided to us, we might carry out certain verifications in the interest of ensuring that the loan transaction has an acceptable level of safety.
Further, we are a direct lender offering loans with no credit checks. We entirely skip the hard credit check process. That makes your loan faster and easier. CapitalPaydayLoan may at times use a partner's services to seek certain credit-related information, but this is not a typical credit check that and it shall not damage your credit scores.
Guaranteed Payday Loan - No Denial if you are Eligible
No denial payday loans are seeing a rising demand. We provide guaranteed payday loans to borrowers who are eligible for our loans and apply for an amount that our system assesses as safe for them to repay. So, if you have an income healthy enough to repay your loan conveniently on time and if you meet all our qualification terms, you can certainly get a payday loan of up to $1000 approved from our service, subject to the applicable laws in the state of your residence.